News
Our Books Illustration and Design has kept quite busy doing comics and illustrations ranging from climate change to youth empowerment.
This year saw a particular enthusiasm for e-books, and we were happy to oblige! Stay tuned for more in the coming year!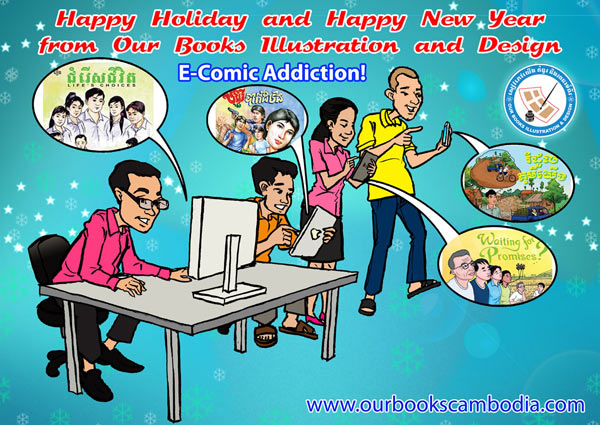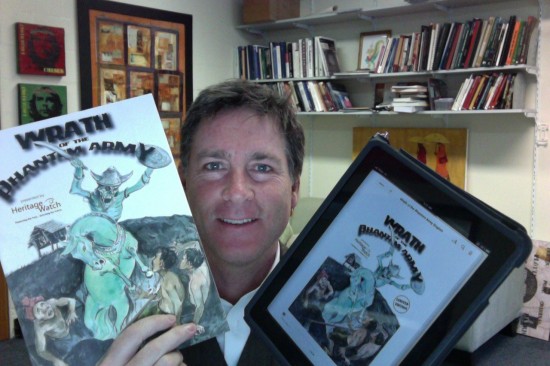 One of the first comics the 'Our Books' team advised on (back before there was an official Our Books) was 2005′s 'Wrath of the Phantom Army' by Heritage Watch. Produced for outreach in English and Khmer, the comic was drawn by Y Lida (a teacher at the Royal University of Fine Arts) and scripted by Heritage Watch's staff.
Years later, we're pleased to help Heritage Watch update their publications for the digital age – here HW Director Dougald O'Reilly shows off some rough draft electronic versions (epub, mobi) put together by our graphic designer Kim Phally.
Stay tuned to http://www.heritagewatchinternational.org for more details!
The Coordinator will work on a full time basis (40 hours a week, Monday through Friday) to manage Our Books Projects. Chief among these is the management of the Nou Hach Literary Journal's activities. The coordinator will report to Managing Editor John Weeks, Project Manager Soeun Klo, and Nou Hach Executive Director Teri Yamada.
Duties:
1. Assist management of Our Books art and social enterprise projects.
a.Exhibitions, teaching, research, archiving of comics projects
b.Assist with 'Our Books Illustration and Design' social enterprise.
2. Assist Nou Hach Literary Association activities in Cambodia, including annual writers' conference. 50% of work hours will be allocated to Nou Hach activities.
a. Coordinate finances and activities closely with Director/Advisory Team.
b. For conference, work with media, collect manuscripts, identify judges, locate venue, and manage event.
Eligibility Requirements
• Cambodian national
• knowledge and interest in Khmer literature
• strong organisational, time-management and administrative abilities
• knowledge of Microsoft Office
• basic accounting experience
• ability to type Khmer Unicode
• strong skills in spoken and written English
• ability to work independently with minimum supervision
• ability to work with a team, good interpersonal skills
• strong networking skills and outgoing personality
Applicants are invited to send their CV and cover letter to our office using the contact details below.
Applicants who send large attachments over one megabyte will be disqualified. Only short-listed candidates will be contacted for interview.
Name: Our Books Organization
Email: job@siewphewyeung.org.kh
Mobile Phone Number: 089 543 102
Telephone Number: 023 223 242
Website: www.siewphewyeung.org.kh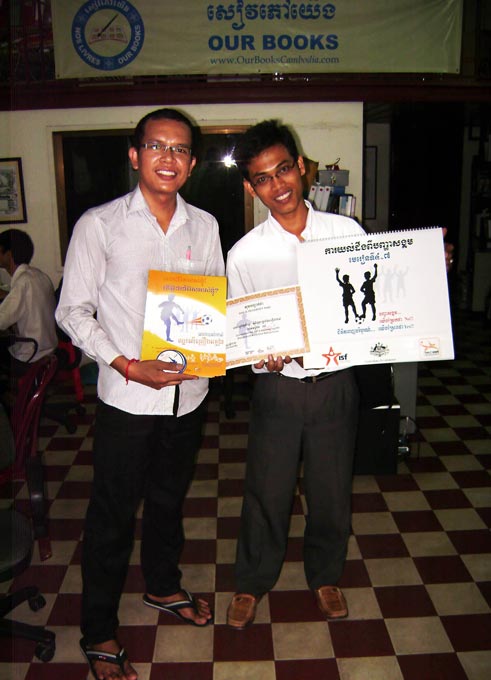 Hot off the presses: Klo shares stickers from ISF's new training program, designed by Ripple Effect!
Phally is hard at work on the third edition of their training flip chart, with the help of our talented roster of artists!
Stay tuned for more art!