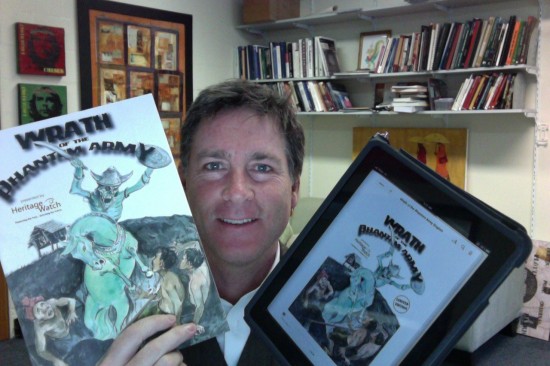 One of the first comics the 'Our Books' team advised on (back before there was an official Our Books) was 2005′s 'Wrath of the Phantom Army' by Heritage Watch. Produced for outreach in English and Khmer, the comic was drawn by Y Lida (a teacher at the Royal University of Fine Arts) and scripted by Heritage Watch's staff.
Years later, we're pleased to help Heritage Watch update their publications for the digital age – here HW Director Dougald O'Reilly shows off some rough draft electronic versions (epub, mobi) put together by our graphic designer Kim Phally.
Stay tuned to http://www.heritagewatchinternational.org for more details!